Destination: Natural Bridges National Monument
Words and photos: Jan Noirot
I try to keep my jaw from hitting my toes while not losing my balance, as I look up and make a valiant attempt to grasp the volume of sandstone over my head and ascertain the height. I don't think it can be done. I am standing under the second-largest natural stone bridge in the US in the snow. I can't fit the whole bridge in one camera shot and panorama mode on my phone looks weird. I lower my head to give my neck a break and a ray of sunshine lights up the snow like someone placed a thousand diamond rings in a row. The tinkle of water nearby lets me know that our desert is saturated for the moment and water is flowing beneath the snow. We will have to be careful of hidden pools. A nearby pinon pine has warmed enough to release its wad of snow, and a raven squawks off in complaint. Nature's own snowball fight. Other than that it is delightfully quiet.
The rangers have let us hike down into Natural Bridges National Monument today for two reasons. One is that they know we know the trail. More importantly, we are wearing our Yak-Trax. They are a hiking boot version of snow-studs or chains to a car tire. We would not have navigated the slippery trail without them. The wet frozen snow on the angled sandstone would have helped us to the bottom the fast way.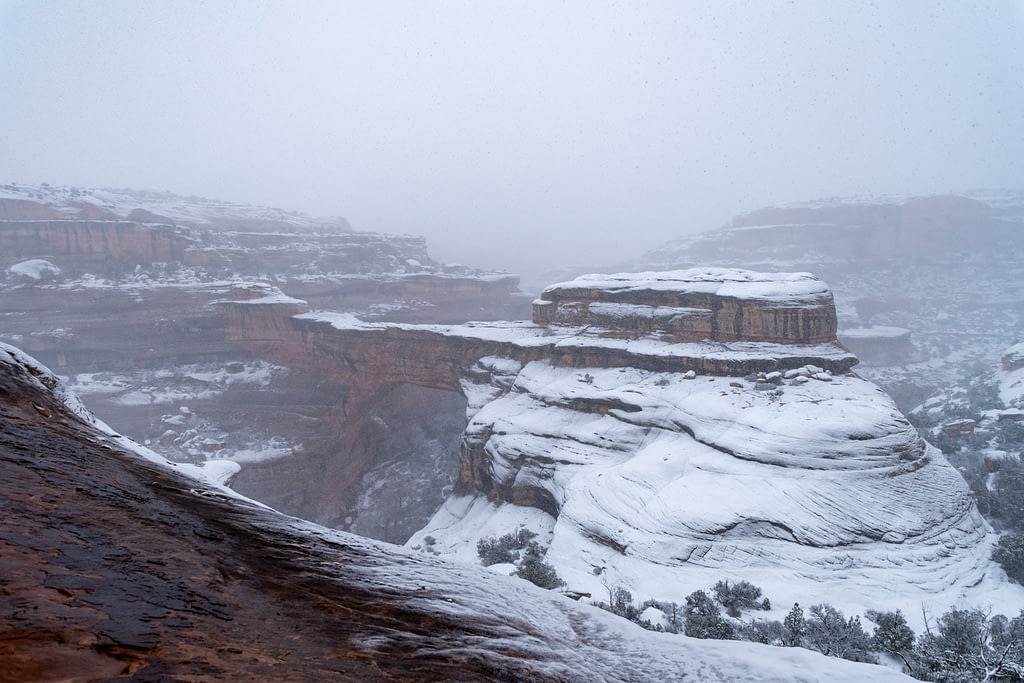 Hiking Natural Bridges National Monument
I love this monument. Like a good friend, it warms my heart to think of it. We have shared snow, ice, rain, heat, darkness, and the radiance of fall.
Though only about an hour from Bluff Dwellings and surrounded by Bears Ears National Monument, most people have never heard of this smaller-in-size national monument. "Natural what?" they say. This jewel of the National Park Service is not on the radar of most tour groups. It doesn't have the same glamor as its northern neighbors, Arches National Park and Canyonlands National Park. Nor does it show up in movies like Monument Valley Navajo Tribal Park to the south. In fact, most simply miss the turnoff sign as they take Highway 95 toward Lake Powell or Capitol Reef National Park.
Natural Bridges National Monument hosts three world-class stone bridges. The Whites and Armstong drainages break through a massive layer of Cedar Mesa sandstone in spectacular fashion. The park is replete with deep canyons, intense meanders, huge pourovers, and innumerable holes-in-the-rock. The canyons are old enough for leaching minerals to streak the capstone layers with deep magenta and dark black varnish. Add to this the iconic cedars, pinons, cacti, and cottonwoods and every step is a museum quality view.
One can enjoy Bridges at their own level of fitness or daring. There is a one-way loop road that has very short (less than a quarter mile) paved sidewalks to an overlook at each bridge. Dogs are even allowed on the sidewalks on leash. There are also trails down under each bridge and connecting to the other bridges. A network of connecting hiking trails web across the mesa top to provide return to the starting point. You can choose from easily accessible viewpoints suitable for the whole family up to a 12-mile loop.
First on the one-way driving loop is Sipapu Bridge. This is the bridge that my husband and I hiked to in the snow this January, described in the introduction. Massive tons of rock soar over the trail almost a football field's height overhead. The trail drops about four hundred forty feet to get down to it. The Park Service has placed two grid staircases and at least four ladders to reach the bottom. These can be a lot of fun or quite intimidating, depending on conditions and your state of mind.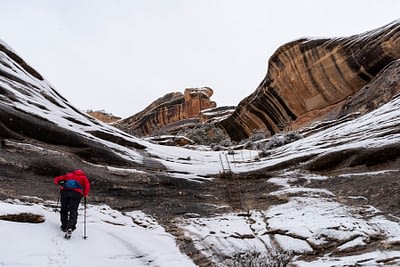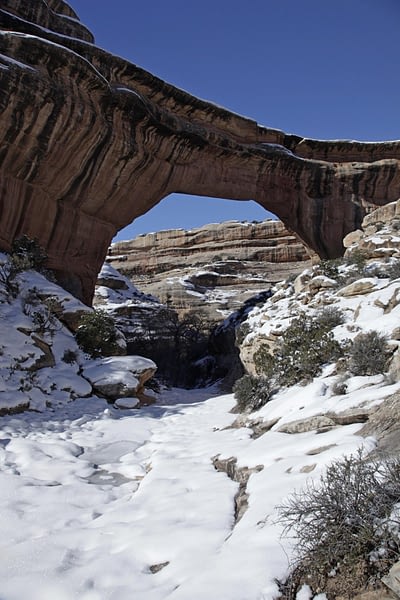 On another visit, my husband and I took some friends and fellow photographers down under this bridge for a night shoot. My mind was telling me that if I can't see the drop-off then it is not there—and I went dancing down the trail more confidently than I do in sunlight. My husband and our friends weren't in that headspace, and were quite tentative. We reached the bottom and the photographs we got were unique, and the Milky Way behind this bridge was amazing!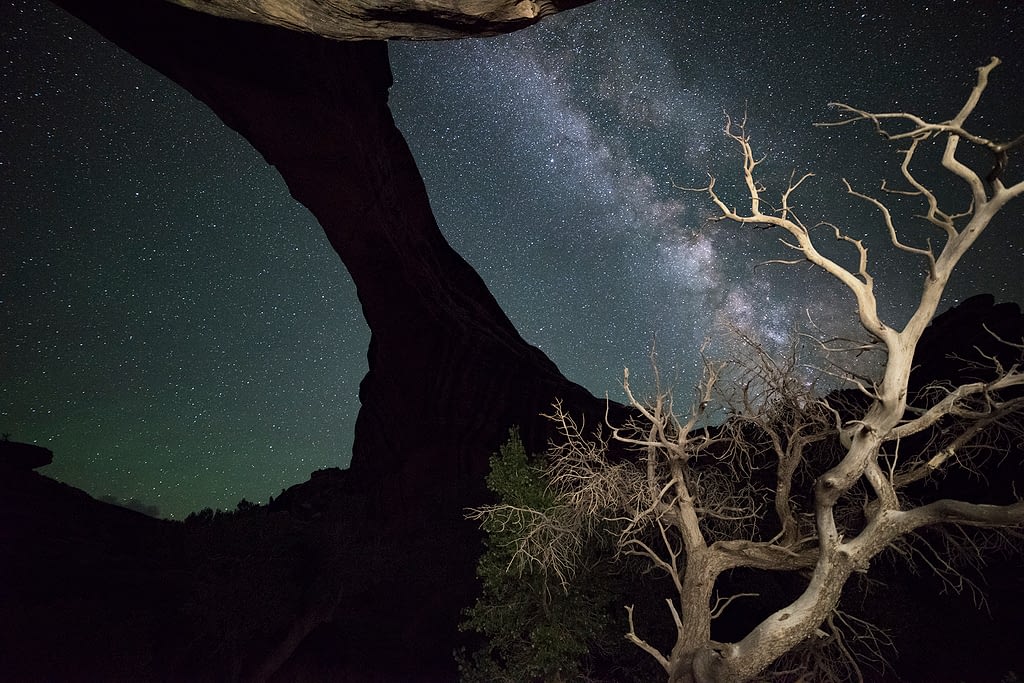 The next bridge is called Kachina Bridge. It is stocky and low, but still massive. It formed where the Armstrong and Whites canyons meet. Additionally, there is an old meander where the river bed used to flow in a loop to the east. Five drainages confluence at the bridge! (More than one person has asked directions to return to the parking lot!)
Kachina is my favorite bridge to visit in autumn. The yellow cottonwoods and remnant reflecting pools radiate light under the bridge. It seems to glow on its own. Ancestral Puebloans (Anasazi) have left evidence of their passing at all the bridges, but they could reach the undersides of this one. There are petroglyphs on the car-park side and more petroglyphs and ruins nearby.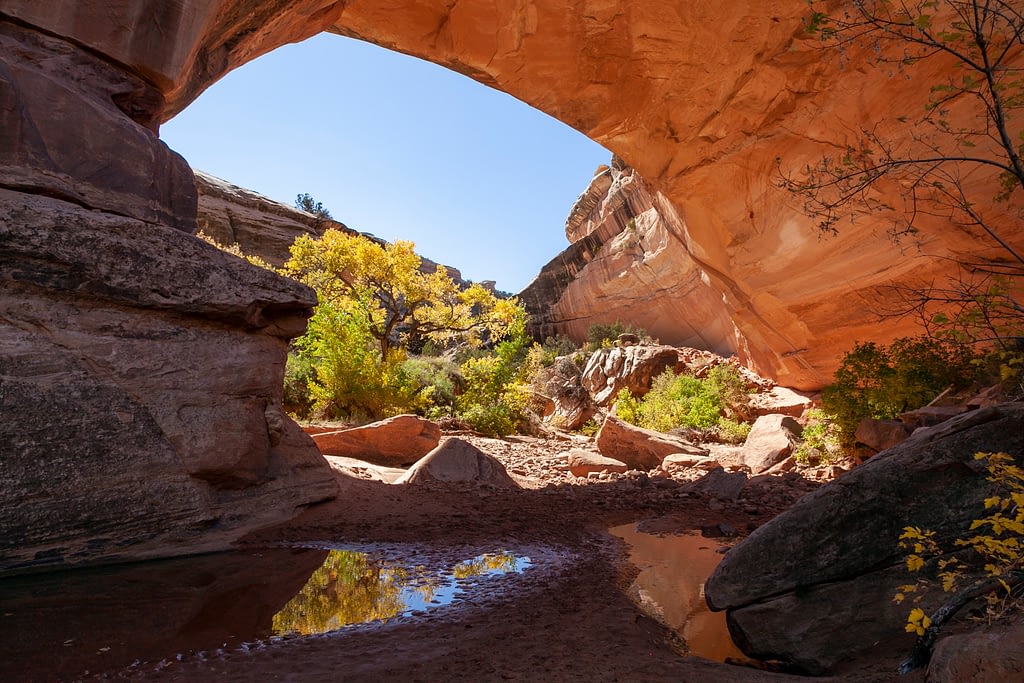 Owachomo Bridge is no more like her sisters than an actual family of sisters. This bridge is long and thin. It is the easiest to hike to and frequently has water and pools flowing in, around, and under after rain. This bridge is higher off of the canyon floor and is photogenic from every side.  A secret canyon below and to the left of the bridge has a multi-tiered pour-over that catches water from rain and snow.  Its safe approach makes catching it in action pretty good. Owachomo is beautiful and I'll let the pictures do the talking.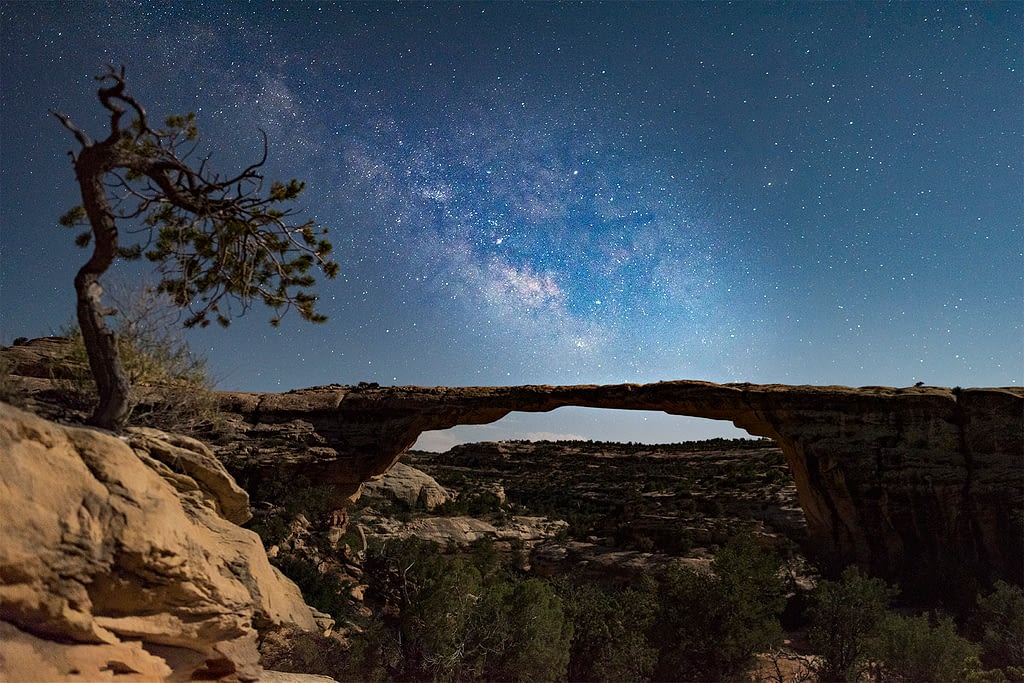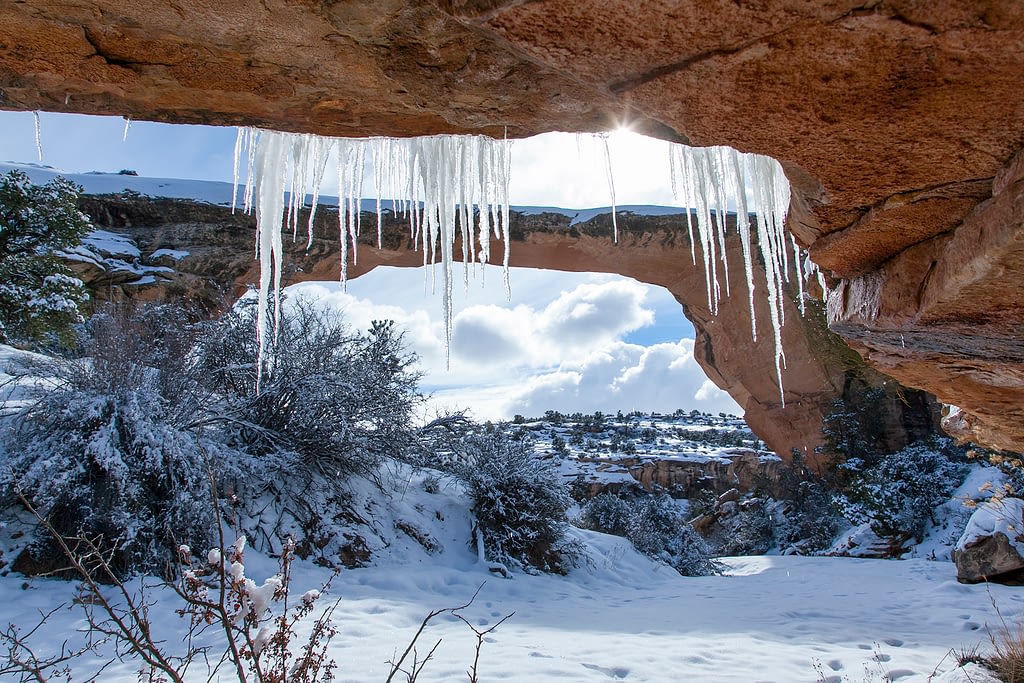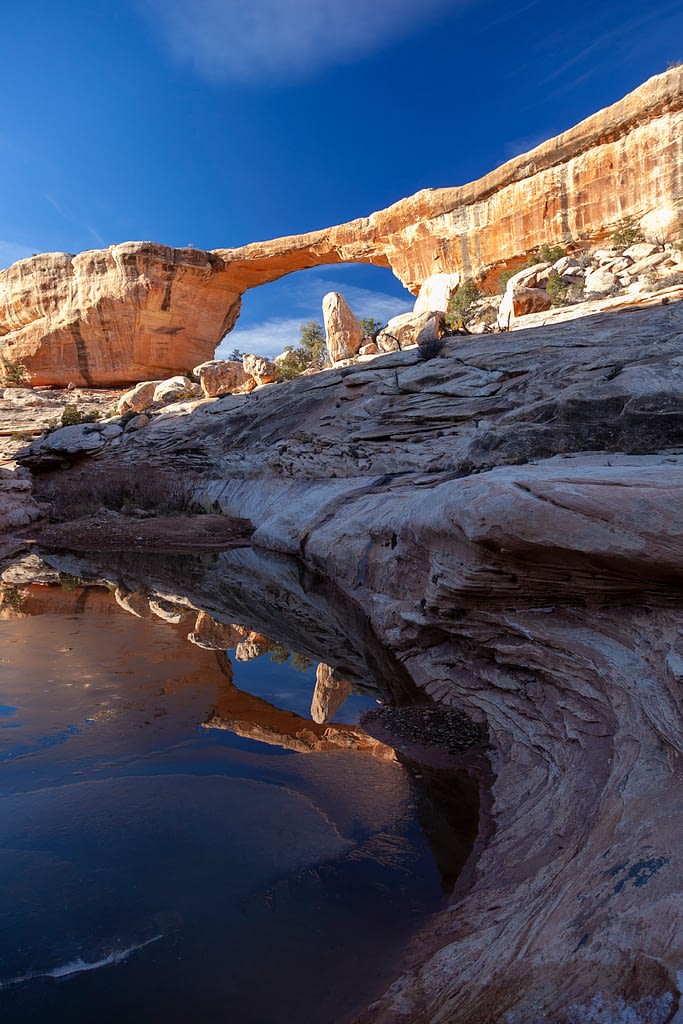 Approach With Respect: Guide to Visiting Natural Bridges With Care
That being said, as the phrase goes, I always approach Natural Bridges with a lot of respect. Besides the usual outdoor and desert risks, there are some surprises. Several of these surprises generate Search and Rescue calls every year.
Do not cross the bridges on the top! Signs are posted at each bridge saying this. One bridge is easy to cross over, but difficult to return. Every year someone tries—and for that effort they receive not only legal trouble with the park, but a hefty helicopter rescue fee.
Unlike the Grand Canyon or Canyonlands, which have spectacular square edged cliff edges that drop thousands of feet, Bridges has very rounded cliff tops. It is very easy to want to reach that phone or camera out a little further to get that shot of the bottom. But suddenly the angle of the sandstone is steeper than shoes can hold. The rule of thumb: stay one stumble back from the edge.
The twists and curves of the drainages can turn you around so that each bend looks like the other and the canyon becomes a hall-of-mirrors, and just as difficult to find the exit. There is no cell service and even GPS devices can struggle to acquire a signal. I always turn around and make a mental note of landmarks at important junctures—such as where the trail goes out. The curving distances can be deceiving on a map. Both the bends and the actual conditions on the ground can make what looks like a short trip a long one. Getting caught after dark is a possibility. Bring a headlamp!
The snowy hike that I described in the first paragraph would take twenty or so minutes on a sunny, dry day. But the snow made slow going, and the earlier rains had deposited so many willow and cottonwood branches that we had to watch our steps and find new workarounds. I am glad that we were just out to enjoy it, and weren't pressing to get anywhere.
Conditions do change in the canyons—a lot! The bridges themselves seem timeless and forever, but the canyon bottoms are fluid and ever changing. Sometimes the sand is firm, sometimes it is dry and deep and impossible to walk through, and sometimes it is wet and quick-sand-ish. Sometimes the willows are tangled and a machete would be handy! Sometimes the bottoms have those (to borrow from the mountain biking world) "baby heads" that can be ankle twisters. A young athletic guide for a well-known outdoor group accidentally stepped on a piece of cottonwood newly-deposited on top of a rock, and broke an ankle. That incident turned into a dangerous rescue. The nearest walkouts were miles away. A six-hundred foot rope was deployed on a five-hundred foot cliff. Not much room for error, and the rounded multiple edges made fraying ropes too easy.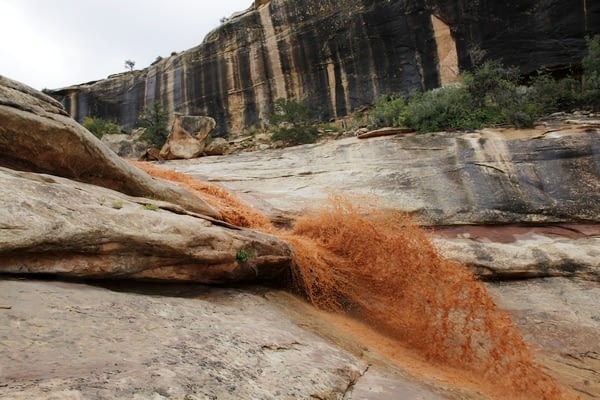 Listen to the rangers about conditions. They are wise to the ways of the park. For example, they know how long it takes for rain to get from Elk Ridge down into the twisty skinny spots of canyons. A few years ago the water came down, but the churning over the miles generated about three or four feet of foam. A party trying to walk the canyon just downstream from Bridges had to climb to a ledge above the foam so they could breathe. They were rescued the next morning after a cold, wet, night on the ledge. I would never have dreamed that foaming waters could be a risk, and I am a very experienced canyon hiker! There are so many unusual surprises that come in this area, that I am glad to get out of the car at the Visitor Center to ask about the trails.
I never bank on how far or how fast I will be able to go, as the conditions dictate that. So allow plenty of time and don't be disappointed if you don't make it as far or as fast. Be prepared and let Natural Bridges National Monument reveal her secrets in her own way and you will be pleasantly and delightfully impressed.
Editor's note: The International Dark-Sky Association accredited Natural Bridges National Monument as the world's first International Dark Sky Park. Whether you're camping at Natural Bridges National Monument or set up a base camp at Bluff Dwellings Resort and Spa, the park's remoteness and effort to protect the night sky help ensure a night of pristine stargazing. Consider pairing your visit to Natural Bridges with custom guided hikes from Wild Expeditions. There are a number of options along Highway 95 on the way from Bluff to Natural Bridges.